Introduction
This Mentimeter slide type acts like a "Wheel of Fortune" and will randomly select a topic from the wheel. It can be used to decide who presents first, topics for discussion or allocation to a student group, revision or as an icebreaker activity.
Alignment to Principles of Digital Teaching and Learning
https://teach.coventry.domains/articles/the-4-principles-of-digital-teaching-and-learning/
Active, Applied, Social, Inclusive
This Spin the Wheel slide supports all four Digital Teaching and Learning Principles depending on the questions or topics included in the activity. For instance,
Social – Spin the Wheel is primarily a whole class/group activity and therefore always active.
Active – Students may write questions for each topic or answer questions you have designed for each topic. Students can also choose the topics they would like to cover on the wheels.
Applied -You can develop a set of questions, which relate to real life situtations and the quiz would therefore be applied.
Inclusive – All students are involved in the activity. If they're writing the questions then they're involved in co-creation and the questions will be written in a more accessible way. Questions may use the students own language making it more accessible to them. Students can choose topics to clarify understanding or for revision.
How can I use it?
1. You can use the Spin the Wheel slide for any activity where you'd like to choose a random topic. For instance, you can work with students to co-create a range of topics for discussion and then Spin the Wheel to choose which one to discuss.
2. You can co-create a revision or formative assessment activity with your students. Ask your students for topics they would like to revise or learn more about and use these to create the spokes on the wheel. When the topics have been agreed, ask the students to write a questions for one or more topics.
Video
Step-by-step
Step 1 Create a new folder or select an existing one
Step 2 Click "New presentation" to create your slides
Step 3 Select Slide Type and scroll down until you find Spin the Wheel
Step 4 Add your Presentation name and click Create Presentation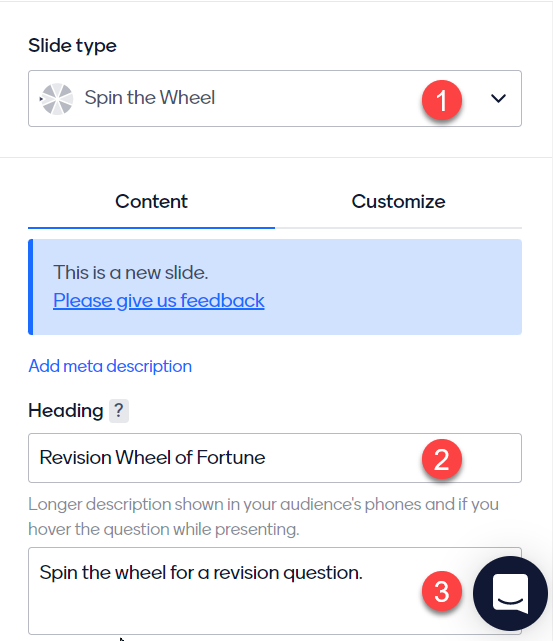 Step 5 Add your topics for random selection by the wheel, you can use up to 50 characters for each topics. Click Add to create additional topics as you need them.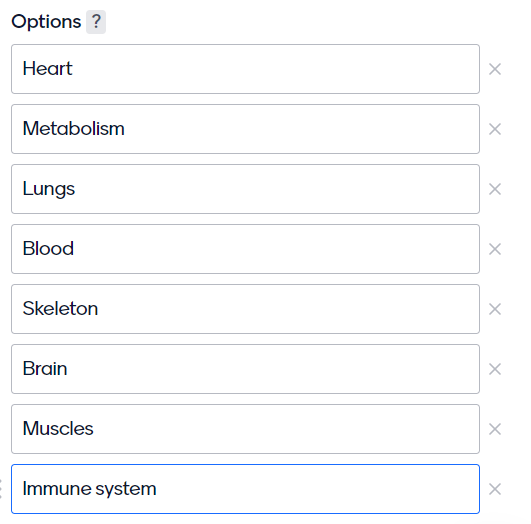 Step 6 Underneath the Extras menu, click Eliminate options to prevent repeated results
Step 7 Click the Customize tab to change voting, layout settings and colour selections.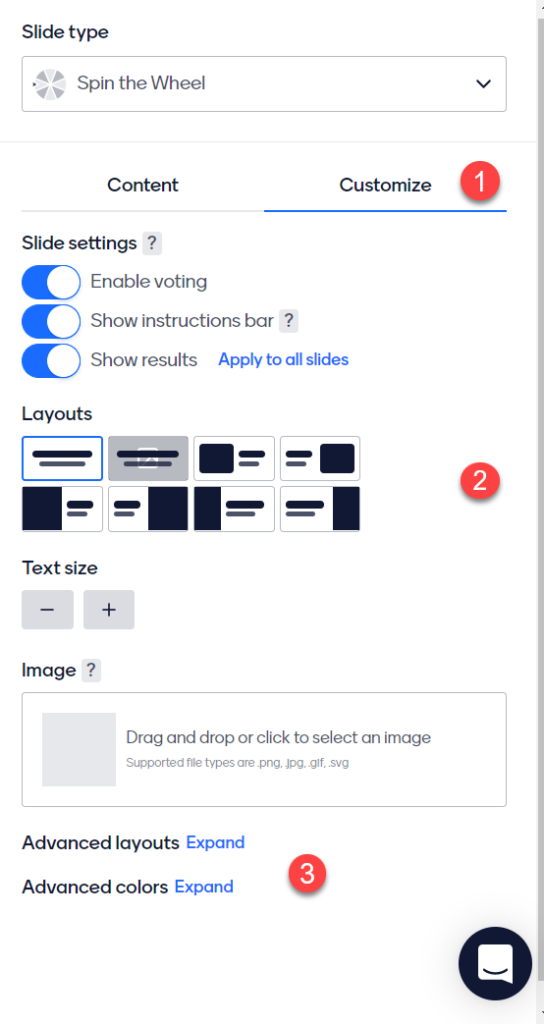 Step 7 Share your Menti
Share your Mentimeter Presentation
Further Reading